Liposuction Fort Worth & Southlake
Liposuction Information and FAQs as provided by board-certified plastic surgeon, Dr. Jonathan Heistein
Liposuction (also called suction lipectomy, liposculpture, or simply "lipo") is used to remove pockets of fat from under the skin. Since only small incisions are used, there is very little scarring. Liposuction can be applied to almost any area of the body, including but not limited to the neck, chest, abdomen, flanks, thighs (saddle bags), ankles and arms.
Board-certified plastic surgeon Dr. Jonathan Heistein offers liposuction for patients in the areas of Fort Worth and Southlake with stubborn pockets of body fat that are difficult to get rid of through diet and exercise.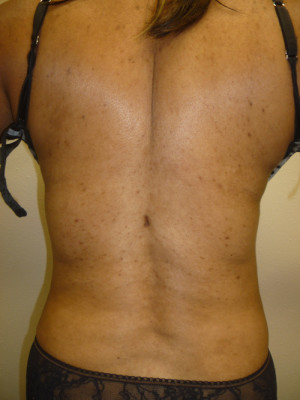 How Is Liposuction Performed?
Liposuction is performed after the injection of a solution (called either a tumescent or wetting solution) that reduces both pain and bruising following surgery. Once the tumescent fluid is injected into the area, a cannula is inserted into the areas through a small incision. The cannula is manipulated to loosen excess fat from the tissue. the mixture of fat and tumescent fluid is then sucked out through the cannula. 
Liposuction Misconceptions
There are many misconceptions about liposuction. The fat cells that are removed are gone forever, but that does not mean that all of the fat is removed. 
People can certainly gain weight after liposuction and "undo" their results. It cannot be used as a replacement for weight loss, only for contouring problem areas. Swelling may persist following surgery and can last for months.
Recovering from Liposuction 
Compression garments can help reduce swelling and get a patient to their final result faster. Recovery is about 1 week, however, final results may not be visible for several months. 
Cost of Liposuction
The price of the procedure varies based on the number of areas being treated and the amount of fat removal required to achieve the patients desired results. Dr. Hestein can discuss the price of the procedure and payment options during the consultation process.
"
You have incredible surgical skills. Thank you for using them to bless the lives of others by helping them look better and feel better about themselves. My results are far beyond what I had even hoped for, and I am in awe.
Schedule a Consultation
Contact our plastic and reconstructive surgery offices in Southlake and Fort Worth today to schedule a consultation with Dr. Heistein. He can provide you with excellent results from your liposuction procedure. 
– On which areas of the body can liposuction be performed?
Liposuction may be used to reduce localized fat deposits of the cheeks, chin, neck, upper arms, breast, chest (gynecomastia), back, abdomen, hips, buttocks, thighs, inner knee, calves, and ankles.
– How much weight will I lose with liposuction?
Liposuction is not a weight loss procedure, but it is a targeted body contouring procedure. Although you may notice some weight loss, liposuction is primarily used to rid targeted problem areas of excess fat deposits.
– Do I need a tummy-tuck or liposuction?
Like you, many of Dr. Heistein's patients have a belly that they are just not confident about. This can be because of a lack of shape to the tummy, a little extra fullness, some loose skin, or stretch marks. Dr. Heistein will use his experience and knowledge to examine your belly and help you choose the best option for you. If your goals are to have some fat removed with a thinner or "smaller" belly, then usually liposuction is a better option for you. If you have stretch marks, loose skin, or a "little pouch" in the lower half of your belly, then a tummy-tuck would be a better option. In general, liposuction will do a wonderful job at removing fat, however, it will not tighten the skin, tighten the muscles, or shape the belly into an hourglass. A tummy-tuck will remove all of the skin, the stretch marks, and the fat under the skin from the belly button to your groin hairline.
– Do I need both liposuction AND a tummy-tuck?
You may want the benefits of both liposuction (smaller belly, less fat, and better definition of your shape) and a tummy-tuck (removal of stretch marks, a much tighter, flatter belly, and your muscles brought back together). To achieve this, you can have both.
Not everyone needs the cut in the middle. It is only for people with a tremendous amount of loose skin. When you lose a significant amount of weight, you will have excess skin from side to side and top to bottom. The standard tummy-tuck incision will remove the extra skin from top to bottom. Some people will also have extra skin from side to side and then the only way to remove that is to have an incision going up and down. This is completely up to you whether or not you want that incision. Usually, the people that have had lap band surgery, laparoscopic gastric bypass surgery, or have lost weight on their own, do not want the up and down incision, which is perfectly good.
– Which type of liposuction is best for me?
There are many types of liposuction available today. New methods of liposuction are being developed everyday, and Dr. Heistein is always learning and staying at the forefront of plastic surgery. In fact, Dr. Heistein has over 50 hours of education credits in Plastic Surgery every year.
The current methods of liposuction include Ultrasonic liposuction, Suction-Assisted liposuction, Power-Assisted liposuction, VASER® Lipo, and Smartlipo™. All of these methods have many things that are similar – all of these are performed with tumescent fluid, and the incisions used are very small—less than the size of a pencil eraser.
The main difference is how the fat is "melted": Smartlipo™ liposuction uses a laser, Ultrasonic and VASER® Liposuction use ultrasonic waves, Suction-Assisted Liposuction uses suction, BodyTite, and Power Assisted Liposuction uses mechanical power. They all work well. Be careful about marketing for certain types that claim that they are better, because it may not be true.
So the best method for you depends on your needs. Dr. Heistein will be happy to discuss all of these with you and find the best method for you – just call now for a consultation.
– Where can I find more information on fat transfers & injectable fillers?
The American Society of Plastic Surgeons provides information on their website, plasticsurgery.org.You can also contact our office directly with any questions. We are happy to answer your questions